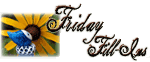 Below you are looking at my favourite comb, I love it and it is no longer in good shape. The red dots all no more so I throw it away, this comb is heavy type and big as you can see.
1. My favorite month is
November
because
it is next month and it is my Birthday
.
2.
Cold wind give me
a fresh breeze.
3. I love to sniff
around
.
4.
Half boiled egg
is what I like to have as a treat for breakfast.
5. The hobby I enjoy most is
make jewellery, blogging, and take part in contest.
6.
Is that what you think,
oh my!
7. And as for the weekend, tonight I'm looking forward to
cook for family
, tomorrow my plans include
go for the treatments for the first time
and Sunday, I want to
watch concert
!