Last Saturday it's a time out for my sons, 3rd September where I have booked for sons for the great time together. My boys need bonding time together, playing and enjoy their childhood. It's 8th Anniversary Jungle Gym where kids get a goodie bag, enjoy fun games, performances and jungle feast.
photo credit to Facebook Jungle Gym
It's an exciting day as my sons have both waited to go Jungle Gym their first time to go there to play also our first time to go the Atria Shopping Mall. We used app waze to get there, it's convenient and easy to find parking there. We manage to find a parking spot in the basement parking.
photo credit to Facebook Jungle Gym
It's a great place to plan your dream party for little ones. 8th Anniversary Jungle Gym is jungle theme, so kids dressed up with animal costumes. More exciting is what awaiting them to bring back home, a goodie bag for each child.
photo credit to Facebook Jungle Gym
Jungle Gym, look at yummy cupcakes and mini burgers.
Children can have their temporary tattoo on spot, my son chosen an elephant while his Yeow Shen chosen a lion.
getting his temporary tattoo on
Jungle Gym is kid's adventure playland. They also cater parties and events for all ages. If you have parties and events related to children why not check out this fun kids playground, perfect place to party and play all day. No kidding my sons have none stop play time, to give them a good sweat for the day.
8th Anniversary Jungle Gym is held at Little Chef Kitchen
There are dance performances and games on the day, children gets to play Simon says, another game is called Freeze. I have photos to share with you click on
album 1
,
album 2
,
album 3
.
The Jungle Gym staffs are friendly and polite, they have group the children into 4 groups so that they can take turn to play. Animal costume contest got everyone excited as some dressing up as dragons, dinosaur, duckling, princess, leopard, clown and many more.
Everyone waving hi to the Bear mascot on the day, he's so cute, big and friendly to everyone.
happy WL won 3rd Prize, ain't he cute in yellow duckling costume.
Children that dressed up in costume on the day gets prize. My 5 years old with duckling costume won 3rd Prize while his brother in dinosaur costume won a consolation prize.
consolation winners that dressed up in animal theme costume on the day.
spot my sons duckling and dinosaur costumes
Thinking to get start your kid's party? Just like the 8th Anniversary Jungle Gym, the anniversary is held at Little Chef Kitchen can accommodate up to 60 children.
The party area available at Jungle Gym @Atria are Zebra area, Lion Area, Monkey Area and Little Chef Kitchen. There's time slot to choose and you can plan within your budget, the minimum spending starts from RM1,500.
It's fun day for the 8th Anniversary Jungle Gym, happy to see children enjoy themselves on the day.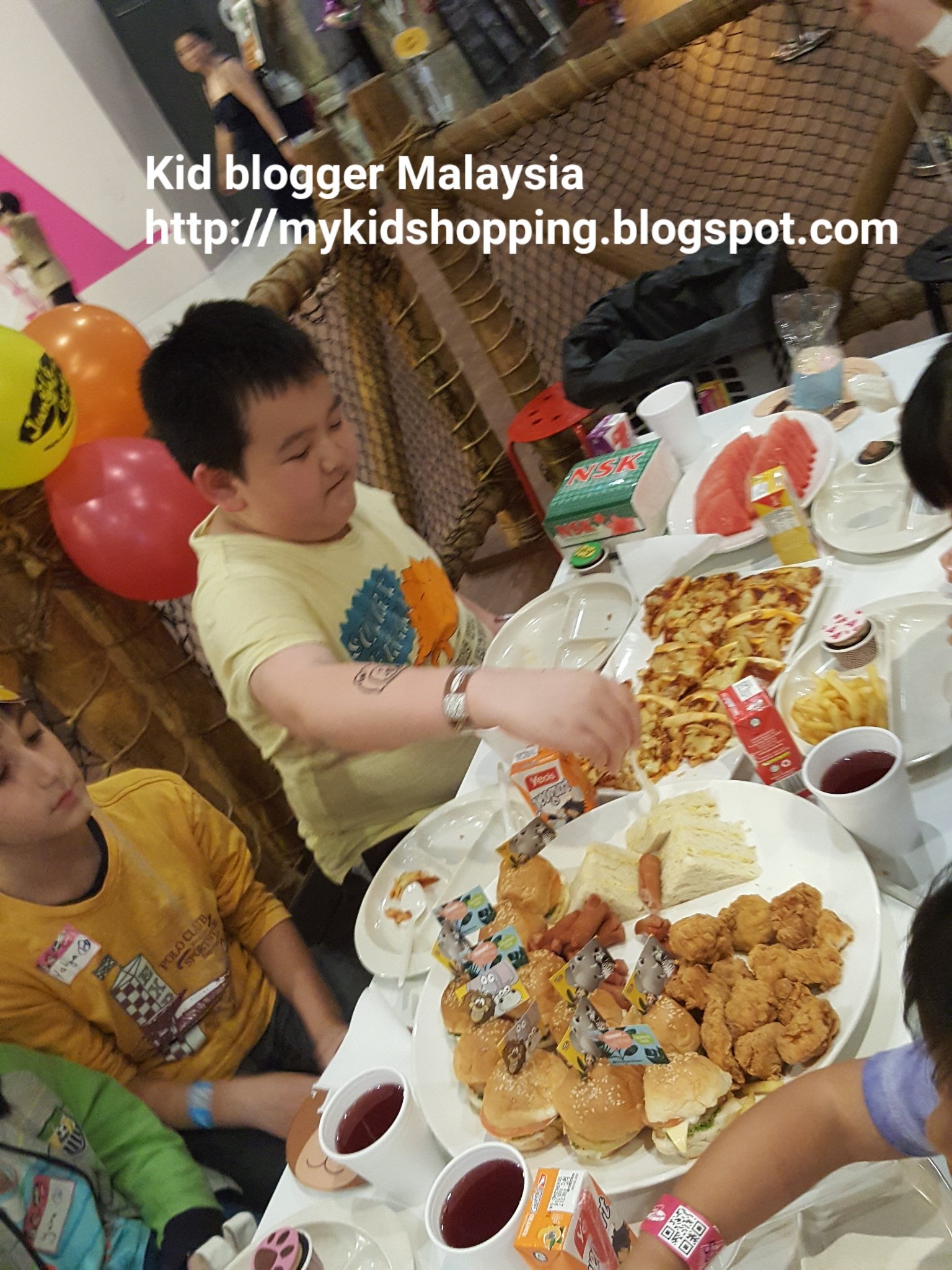 children have their jungle feast
A great place to plan your personalized party, and party theme. There's no fuss, no clean-up and lots of fun.
Jungle Gym @Atria is clean with spacious party area perfectly sized to accommodate group in small or large. That's not all, they are dedicated party crew service from area set-up, guests registration to coordination, ensuring your party runs smoothly.
bonding time family and brothers spotted having a good time playing kinetic sands
having a good time playing kinetic sand #junglegymplayland
Jungle Gym @Atria is fun place for all kids that love ball pit, slides, crawling tunnels, air guns, trampolines, basket ball mini field, fun mag wall, babyland, water bed and many more. I can tell you that my sons have endless fun there.
Don't you love to have a good time with your children? Good bonding time as spending time together and give them a good sweat. Standard Entry rate for
Toddlers below 2 years old
on weekday is RM25, while on weekend/Public Holiday/School Holiday is RM35 per pax. For
Kids above 2 years old
, RM48 on weekday, while on weekend/Public Holiday is RM58 per pax. Guardian per person is charge RM5 (redeem a bottle of water).
Please take note to all adults and kids must wear socks at all times upon entering Jungle Gym.
Jungle Gym Atria Shopping Gallery is located at
S18 & S18A, 2nd Floor, Atria Shopping Gallery, Atria Damansara,
Jalan SS22/23, Damansara Jaya, 47400 Petaling Jaya, Selangor
You can also follow their updates on
https://www.facebook.com/junglegymplayland
www.junglegym.my
instagram @junglegymplayland.
If you have any questions on their party packages you can email: party.atria@junglegym.my